ORdigiNAL, a leading value-added distributor for productivity and efficiency software solutions & services, and KonductIT a specialist in Microsoft Teams Phone & Rooms, Contact Centres and Healthcare Communications, are joining forces to offer a complete service on Microsoft Teams Phone in 142 countries.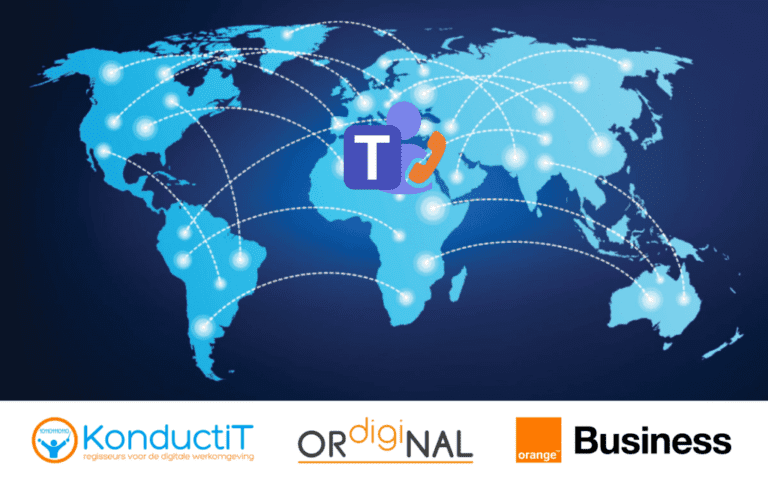 Arno Herweijer, Partner Success Manager, ORdigiNAL: "KonductiIT's years of experience in communication solutions fit very well with ORdigiNAL's ambitions to enable our business customers and healthcare professionals, to be able to work faster and more efficiently. As a  Global Orange Business Distributor our focus is on Microsoft solutions, where in addition to Speech Recognition (Dragon), we see telephony with Teams as a pillar for modern work."
Bram van de Ven of KonductiT: "With the strategic partnership with ORdigiNAL, we are able to easily and quickly replace traditional PBXs at virtually any location in the world with the high-quality calling features of Microsoft Teams Phone. In many cases, this can be done while maintaining their own local or international phone numbers. Microsoft Teams has been chosen by most organisations worldwide as the communication and collaboration platform. It is therefore also a logical choice for these organisations to add fixed telephony with Orange to Microsoft Teams."
Rob Dinnissen of KonductiT continued: "Our approach is aimed at rolling out the solution rapidly and, with good adoption, ensuring that the end user can work with it from day one. We also include the customer's IT management team in this, so that the organisation can roll out and manage much of the solution themselves. Just like the rest of the Microsoft 365 workplace. Together with ORdigiNAL and Orange, we can realise Teams Phone telephony quickly, easily and in a very cost-effective way."
ORdigiNAL and KonductiT look forward to a successful collaboration and will share their knowledge and expertise to provide innovative, user-friendly solutions that meet the growing needs of their joint customers.
About ORdigiNAL: ORdigiNAL has over twenty years of knowledge and experience in the fields of speech recognition, document workflow, print/capture and work processes.
Headquartered in the Netherlands, ORdigiNAL is an independent value-added distributor of innovative software solutions and services. Active in more than 46 countries with local support. From lead generation, pre-sales, discovery sessions, sales support, installation, and implementation, to post-sales support, helpdesk and training. The company has built a leading reputation for supplying high-quality IT products and services from Microsoft, Nuance, Kofax and Orange, among others.
About  KonductiT: KonductiT has over 25 years of experience in managing and providing telecommunications and information technology consultancy and solutions within organisations' digital working environments. The company focuses on Microsoft Teams Phone, Microsoft Teams Rooms, Contact Centres and Healthcare Communications specifically.
KondictiIt aims to improve and modernise telecommunications and information services for organisations, consumers and partners. The objective is to promote hybrid working with modern solutions. In doing so, we consider it important to offer solutions that are easy for everyone to set up, learn and use.
Media Contact:
Kaitlin Hawthorne
Marketing Manager
+31365360455
Contact our team today to get started!